YOU'RE INTERESTED IN THE HOSPITALITY INDUSTRY? BUT REFRESHINGLY DIFFERENT FROM ANYWHERE ELSE? THEN CONTINUE WRITING THE IPARTMENT SUCCESS STORY WITH US!
We are hosts with passion: With our designer serviced apartments we create a second home away from home. And this concept does not only apply to our guests. Feeling good is also on the agenda at work. Inhumane working hours and poor payment? That's not the case with us. We want to show that things can be different in the hospitality industry. We focus on the right work-life balance, responsibility and fun, a lot of personality and common goals. As a team with individual heads and new ideas, we create the basis for success. Now we want to grow further. Do you want to grow, too? Then discover here our open positions and what makes ipartment standing out as an employer.
to our
job offers
BRIEF PROFILE IPARTMENT
ipartment is the First Choice Second Home for business- and leisure traveler, who prefer to feel like home rather than just in another hotel - but without lacking the amenities of a personal service. Therefore, we combine living and working in our more than 1,200 design serviced apartments at over 15 locations in Germany and Switzerland. Through aesthetics, functionality and first-class service, we raise personality and atmosphere to a new level in the hospitality sector. A very important factor for living up to this claim: Our great team. Are you joining us soon?

ABOUT US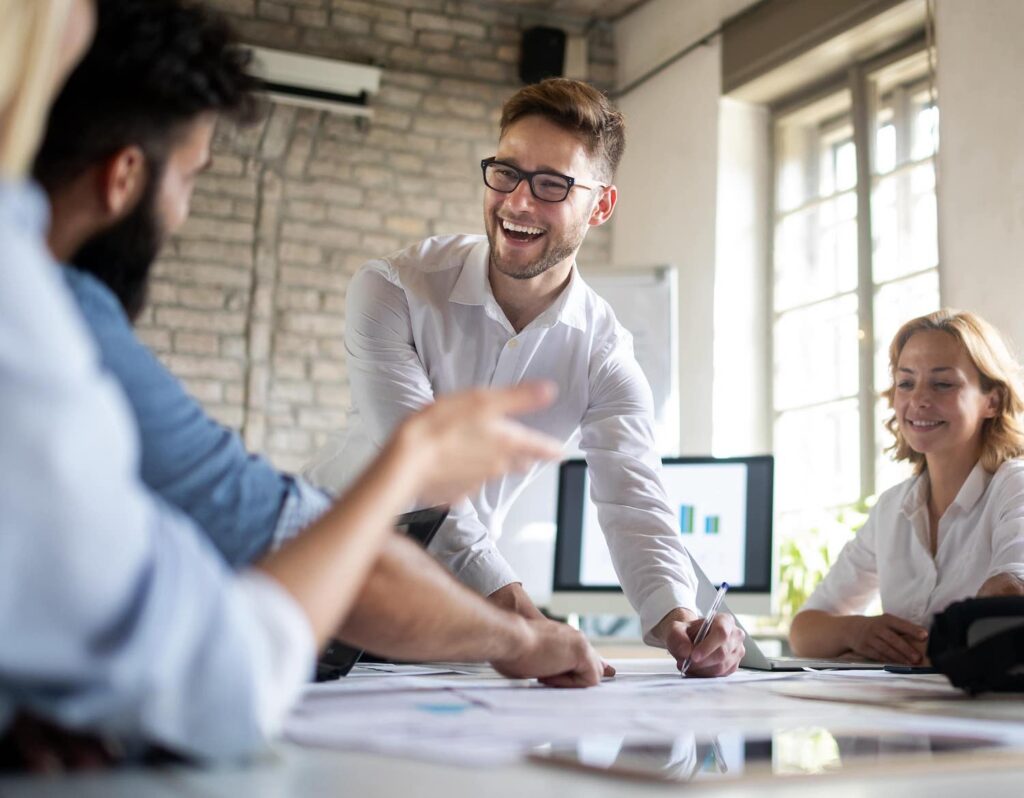 Your benefits at ipartment

Work-Life-Balance
For us it goes without saying: No shift work, no weekend work, regular working hours! Because we understand that each of us needs a balance to the daily work routine. In addition, we will be offering discounted sports club memberships in the future. So why not go to the gym or the climbing wall during your break or after work?
PROFESSIONAL DEVELOPMENT

Not only challange, but also support: Your personal development is vital to us. Together we work on your wishes and goals. We support our entire team through our internal ipartment academy as well as through the deliberate use of external training opportunities.
Discount programmes

We want to support you also outside our office premises. That's why ipartment is a cooperation partner in a Germany-wide bonus program. As part of the team you get attractive discounts for online stores, rental cars, cell phone contracts or event concert tickets - just like that.
FRUIT AND DRINKS

Without the first espresso in the morning or a snack in between, many of us feel like a different person. And it's often the short coffee breaks with colleagues that give us the energy back for new challenges. Free hot and cold drinks and fresh fruit are therefore always available free of charge.
JOB-TICKET
Getting to work in a relaxed way, not being stuck in traffic jams by car and also reducing your ecological footprint? It doesn't just sound great, it really is. That's why you can get a Job Ticket through us and leave your car at home. Provided, of course, that you work at a location with a suitable public transport system. Unfortunately, we don't have control over the public transport network.
STAFF BENEFITS
Why should only guests enjoy our beautiful design serviced apartments? That would be too bad! Everyone in the team may play the role of the guest and really feel the ipartment experience. Therefore we offer special rates for our team + family and friends. And sometimes we even give away free nights!
Diverse work areas:
Which one is yours?

RESERVATION
Love at first sight? Sure! The ipartment journey of satisfied guests begins already here at the reservation. At this first impression especially our reservation team comes into play: You are the first contact for our future tenants. You take care of our future guests with their inquiries about our apartments, prices and also locations: How far is it to the airport? Where is a good place to park? No problem for you. To you it's important not only to sell a lot of rooms: Every guest should find exactly the right apartment for his/her needs.

GUEST-MANAGEMENT

All-rounders at work: As a guest manager you are the direct contact for our guests in our apartment buildings. With your commitment you make sure that the guest lives and experiences the specal ipartment-feeling in our arpartments. No matter if check-in or house tours, coordination of the cleaning companies or just a sympathetic ear. You give ipartment a face and cover everything that takes care of the well-being of our guests.

SALES
As a sales employee you are our voice to the outside world. But by no means "simple" salesman: You represent ipartment with heart and mind and identify yourself a 100% with our philosophy. This energy is priceless. Potential customers notice that, too! Anyone who meets with our sales team quickly notices: the ipartment feeling is being lived and spread.

OPERATIONS
You have all strings firmly in your hand! In the operations team you make sure that everything runs smoothly in our different houses. In this department you are the link between our employees at the different locations and the HQ in Cologne. Whether it's training new employees, implementing new locations or communicating with external partners. With your work you support the colleagues at the locations all over Germany.

Finance
No one can fool you! Because you are responsible for accounting. And with over 1,200 apartments in various cities, counting peas is definitely a thing of the past. You love numbers and work with your team at full speed. Whether it's posting incoming or outgoing invoices, dunning processes or generating monthly statements for our individual locations. There's never a dull moment here!

karriere@ipartment.de
0221.921 636 200
Do you enjoy new challenges and teamwork? Are you passionate about hosting and want to transform this industry with us? Then click through our vacancies now. Is there something suitable for you? Perfect. We are looking forward to hearing from you!
CALL CENTER AGENT - WELCOME SERVICE in Vollzeit (m/w/d)

YOU'RE INTERESTED IN THE HOSPITALITY INDUSTRY? BUT REFRESHINGLY DIFFERENT FROM ANYWHERE ELSE? THEN CONTINUE WRITING THE IPARTMENT SUCCESS STORY WITH US!

We are hosts with passion: With our designer serviced apartments we create a second home away from home. And this concept does not only apply to our guests. Feeling good is also on the agenda at work. Inhumane working hours and poor payment? That's not the case with us. We want to show that things can be different in the hospitality industry. We focus on the right work-life balance, responsibility and fun, a lot of personality and common goals. As a team with individual heads and new ideas, we create the basis for success. Now we want to grow further. Do you want to grow, too? Then discover here our open positions and what makes ipartment standing out as an employer.

Wir suchen Dich zum nächstmöglichen Zeitpunkt zur Verstärkung unseres Teams. Dein Arbeitplatz liegt im wunderschönen und lebendigen Belgischen Viertel in Köln.

CALL CENTER AGENT - WELCOME SERVICE
IN VOLLZEIT (M/W/D) / KÖLN

DAS SIND DEINE NEUEN AUFGABEN
Du bist das Sprachrohr zu unseren Gästen. Direkt nach der Apartmentbuchung wirst du aktiv und nimmst den Kontakt mit unseren Gästen auf, um Ihnen alle offenen Fragen zur Anreise, des Aufenthalts und über den Standort zu beantwortet
Du optimierst erweiterst unsere digitale Guestjourney
Du kontaktierst unsere Gäste vor Ihrer Abreise, um dir ein erstes Feedback über den Aufenthalt zu holen und selbstverständlich dafür beizutragen, dass es keine offenen Fragen zum Check-Out gibt
bei längeren Buchungszeiträumen unserer Mieter, holst du telefonisch ein Zwischen-Fazit (Wünsche, Ideen und Kritik) ein, um so die Qualität unsere ipartment-Standards stichprobenartig zu überprüfen
War der Aufenthalt zufrieden stellenden und würde der Gast wieder bei uns buchen? Durch dein Feedback-Anruf, einige Tage nach der Abreise, wirst du dieser Frage nachkommen
Übermittlung von Kritik, Lob und Anregungen unserer Gäste an die Hausmanager, dem Reservierungsteam oder unsere Geschäftsführung
WAS WIR VON DIR ERWARTEN
eine offene und kommunikative Persönlichkeit
eine eigenständige und strukturierte Arbeitsweise
Spaß am direkten Telefonkontakt mit Kunden/ Gästen
Du hast erste Erfahrung in der Telefon-Akquise oder in ähnlichen Tätigkeiten
eine Abgeschlossene Berufsausbildung
sehr gute Deutsch/ Englisch Kenntnisse - weitere Sprachen von Vorteil
DARAUF KANNST DU DICH FREUEN

FEEL GOOD AT WORK
Bei einer übertariflich leistungsgerechten Bezahlung, in einer angenehmen Arbeitsatmosphäre, hast du die Chance durch deine Ideen einen entscheidenden Anteil zur Entwicklung unserer Marke ipartment beizutragen. Neben abwechslungsreichen und verantwortungsvollen Aufgaben bieten wir dir ein spannendes Umfeld mit viel Spielraum Dich persönlich zu entfalten.

WORK-LIFE-BALANCE
For us it goes without saying: No shift work, no weekend work, regular working hours! Because we understand that each of us needs a balance to the daily work routine. In addition, we will be offering discounted sports club memberships in the future. So why not go to the gym or the climbing wall during your break or after work?

PROFESSIONAL DEVELOPMENT
Not only challange, but also support: Your personal development is vital to us. Together we work on your wishes and goals. We support our entire team through our internal ipartment academy as well as through the deliberate use of external training opportunities.

JOB-TICKET
Entspannt zur Arbeit zu kommen, nicht mit dem Auto im Stau stehen und ganz nebenbei deinen ökologischen Fußabdruck verringern? Klingt nicht nur großartig, ist es auch. Deswegen kannst du über uns ein Job-Ticket erhalten und das Auto stehen lassen. Vorausgesetzt, du wirst an einem Standort mit passendem ÖPNV arbeiten. Denn das Liniennetz haben wir leider nicht in der Hand.

RABATT-PROGRAMME
We want to support you also outside our office premises. That's why ipartment is a cooperation partner in a Germany-wide bonus program. As part of the team you get attractive discounts for online stores, rental cars, cell phone contracts or event concert tickets - just like that.

FRUIT AND DRINKS
Without the first espresso in the morning or a snack in between, many of us feel like a different person. And it's often the short coffee breaks with colleagues that give us the energy back for new challenges. Free hot and cold drinks and fresh fruit are therefore always available free of charge.

STAFF BENEFITS
Why should only guests enjoy our beautiful design serviced apartments? That would be too bad! Everyone in the team may play the role of the guest and really feel the ipartment experience. Therefore we offer special rates for our team + family and friends. And sometimes we even give away free nights!

Dann sende bitte Deine Bewerbungsunterlagen per E-Mail an:
karriere@ipartment.de
Stellenausschreibung als PDF laden
GUEST SERVICE REPRESENTATIVE in Vollzeit (m/w/d)

YOU'RE INTERESTED IN THE HOSPITALITY INDUSTRY? BUT REFRESHINGLY DIFFERENT FROM ANYWHERE ELSE? THEN CONTINUE WRITING THE IPARTMENT SUCCESS STORY WITH US!

We are hosts with passion: With our designer serviced apartments we create a second home away from home. And this concept does not only apply to our guests. Feeling good is also on the agenda at work. Inhumane working hours and poor payment? That's not the case with us. We want to show that things can be different in the hospitality industry. We focus on the right work-life balance, responsibility and fun, a lot of personality and common goals. As a team with individual heads and new ideas, we create the basis for success. Now we want to grow further. Do you want to grow, too? Then discover here our open positions and what makes ipartment standing out as an employer.

Wir suchen Dich zum nächstmöglichen Zeitpunkt zur Verstärkung unseres Teams für unsere Standorte Berlin City. Dein Arbeitplatz liegt am Ku´damm in einem der schönsten Altbauten Berlins:

GUEST SERVICE REPRESENTATIVE
IN VOLLZEIT (M/W/D) / BERLIN

DAS SIND DEINE NEUEN AUFGABEN
den reibungslosen service- und qualitätsorientierten Tagesablauf in unseren Apartmenthäusern in Berlin Ku'Damm und Berlin Mitte (ab Anfang 2023) mitverantworten
interne Prozesse und Abläufe optimieren
Ansprechpartner für unsere Gäste sein
Apartmentübergaben koordinieren und durchführen
Servicedienstleitungen unserer beauftragten Fremdfirmen betreuen und kontrollieren
Haus-/Apartmentbesichtigungen durchführen
den Einsatz von Handwerkern koordinieren und beauftragen
WAS WIR VON DIR ERWARTEN
Teamfähigkeit
eine offene und kommunikative Persönlichkeit
kundenorientiertes Denken
eine abgeschlossene Berufsausbildung (im Hotel von Vorteil)
erste berufliche Erfahrungen als Rezeptionsmitarbeiter und/oder im Housekeeping eines Hotels
Deutsch/ Englisch Kenntnisse (Wort und Schrift) - weitere Sprachen von Vorteil
Kenntnisse im Umgang mit Hotelprogrammen - vorzugsweise Protel
einen sicheren Umgang mit Word, Excel (Office)
DARAUF KANNST DU DICH FREUEN

FEEL GOOD AT WORK
Bei einer übertariflich leistungsgerechten Bezahlung, in einer angenehmen Arbeitsatmosphäre, hast du die Chance durch deine Ideen einen entscheidenden Anteil zur Entwicklung unserer Marke ipartment beizutragen. Neben abwechslungsreichen und verantwortungsvollen Aufgaben bieten wir dir ein spannendes Umfeld mit viel Spielraum Dich persönlich zu entfalten.

WORK-LIFE-BALANCE
For us it goes without saying: No shift work, no weekend work, regular working hours! Because we understand that each of us needs a balance to the daily work routine. In addition, we will be offering discounted sports club memberships in the future. So why not go to the gym or the climbing wall during your break or after work?

PROFESSIONAL DEVELOPMENT
Not only challange, but also support: Your personal development is vital to us. Together we work on your wishes and goals. We support our entire team through our internal ipartment academy as well as through the deliberate use of external training opportunities.

RABATT-PROGRAMME
We want to support you also outside our office premises. That's why ipartment is a cooperation partner in a Germany-wide bonus program. As part of the team you get attractive discounts for online stores, rental cars, cell phone contracts or event concert tickets - just like that.

FRUIT AND DRINKS
Without the first espresso in the morning or a snack in between, many of us feel like a different person. And it's often the short coffee breaks with colleagues that give us the energy back for new challenges. Free hot and cold drinks and fresh fruit are therefore always available free of charge.

JOB-TICKET
Getting to work in a relaxed way, not being stuck in traffic jams by car and also reducing your ecological footprint? It doesn't just sound great, it really is. That's why you can get a Job Ticket through us and leave your car at home. Provided, of course, that you work at a location with a suitable public transport system. Unfortunately, we don't have control over the public transport network.

STAFF BENEFITS
Why should only guests enjoy our beautiful design serviced apartments? That would be too bad! Everyone in the team may play the role of the guest and really feel the ipartment experience. Therefore we offer special rates for our team + family and friends. And sometimes we even give away free nights!

Sende bitte Deine Bewerbungsunterlagen per E-Mail an:
karriere@ipartment.de
Stellenausschreibung als PDF laden
HR Manager/in / People- & Talent Development (m/w/d)

YOU'RE INTERESTED IN THE HOSPITALITY INDUSTRY? BUT REFRESHINGLY DIFFERENT FROM ANYWHERE ELSE? THEN CONTINUE WRITING THE IPARTMENT SUCCESS STORY WITH US!

We are hosts with passion: With our designer serviced apartments we create a second home away from home. And this concept does not only apply to our guests. Feeling good is also on the agenda at work. Inhumane working hours and poor payment? That's not the case with us. We want to show that things can be different in the hospitality industry. We focus on the right work-life balance, responsibility and fun, a lot of personality and common goals. As a team with individual heads and new ideas, we create the basis for success. Now we want to grow further. Do you want to grow, too? Then discover here our open positions and what makes ipartment standing out as an employer.

Wir suchen Dich zum nächstmöglichen Zeitpunkt zur Verstärkung unseres Teams. Dein Arbeitplatz liegt im wunderschönen und lebendigen Belgischen Viertel in Köln.

HR MANAGER/IN / PEOPLE- & TALENT DEVELOPMENT
IN TEILZEIT/VOLLZEIT (M/W/D) / KÖLN

DAS SIND DEINE NEUEN AUFGABEN
Beratung bei der Identifikation von Talenten und Entwicklung von Potenzialträgern
Weiterentwicklung und Umsetzung von Konzepten im Bereich der Mitarbeiter-und Talentenwicklung
Verantwortung für die nachhaltige Absicherung des Personalmanagements sowie den reibungslosen Ablauf aller operativen, administrativen und strategischen HR-Prozesse
Ansprechpartner für alle Mitarbeiterbelange und Berater des Managementteams bei personalrelevanten und arbeitsrechtlichen Fragestellungen
Operative Planung und Umsetzung der HR-Strategien, Bearbeitung von administrativen und organisatorischen HR- Themen
Personalentwicklung sowie Unterstützung hinsichtlich Aus- und Weiterbildungsmaßnahmen
(Mit-)Verantwortung für strategische Projekte in den Themenfeldern der Organisationsentwicklung sowie Entwicklung/Ausbau der Führungs- und Feedbackkultur
Unterstützung bei der Weiterentwicklung des ipartment Employer-Brandings
Prozessoptimierung und Digitalisierung von HR-Kernprozessen
Kontinuierliche Motivation unserer Mitarbeiter inkl. Erweiterung unserer Mitarbeiter-Benefits und Anreizsysteme
Stetige Evaluierung und Berücksichtigung von neuen HR Trends und Tools
WAS WIR VON DIR ERWARTEN
Kommunikationsstärke, interkulturelle Kompetenz, analytisches Denkvermögen und Flexibilität
Kenntnisse im Arbeits-, Steuer- und Sozialrecht
Du arbeitest strukturiert, detailliert, mit hohem Qualitätsanspruch und bist dabei immer hilfsbereit
Abgeschlossenes Studium mit Vertiefung HR, eine vergleichbare Ausbildung oder eine Weiterbildung mit dem Schwerpunkt Personal ODER Quereinsteiger mit langjähriger HR-Erfahrung
Mut zur Veränderung und kreative Denkweisen
Gute Englischkenntnisse und sicherer Umgang mit Mac OS und MS Office
Bereitschaft für gelegentliche Dienstreisen
Du besitzt ein hervorragendes Zeitmanagement und verstehst es Prioritäten richtig zu setzen
DARAUF KANNST DU DICH FREUEN

FEEL GOOD AT WORK
Bei einer übertariflich leistungsgerechten Bezahlung, in einer angenehmen Arbeitsatmosphäre, hast du die Chance durch deine Ideen einen entscheidenden Anteil zur Entwicklung unserer Marke ipartment beizutragen. Neben abwechslungsreichen und verantwortungsvollen Aufgaben bieten wir dir ein spannendes Umfeld mit viel Spielraum Dich persönlich zu entfalten

WORK-LIFE-BALANCE
For us it goes without saying: No shift work, no weekend work, regular working hours! Because we understand that each of us needs a balance to the daily work routine. In addition, we will be offering discounted sports club memberships in the future. So why not go to the gym or the climbing wall during your break or after work?

PROFESSIONAL DEVELOPMENT
Not only challange, but also support: Your personal development is vital to us. Together we work on your wishes and goals. We support our entire team through our internal ipartment academy as well as through the deliberate use of external training opportunities.

RABATT-PROGRAMME
We want to support you also outside our office premises. That's why ipartment is a cooperation partner in a Germany-wide bonus program. As part of the team you get attractive discounts for online stores, rental cars, cell phone contracts or event concert tickets - just like that.

FRUIT AND DRINKS
Without the first espresso in the morning or a snack in between, many of us feel like a different person. And it's often the short coffee breaks with colleagues that give us the energy back for new challenges. Free hot and cold drinks and fresh fruit are therefore always available free of charge.

JOB-TICKET
Getting to work in a relaxed way, not being stuck in traffic jams by car and also reducing your ecological footprint? It doesn't just sound great, it really is. That's why you can get a Job Ticket through us and leave your car at home. Provided, of course, that you work at a location with a suitable public transport system. Unfortunately, we don't have control over the public transport network.

STAFF BENEFITS
Why should only guests enjoy our beautiful design serviced apartments? That would be too bad! Everyone in the team may play the role of the guest and really feel the ipartment experience. Therefore we offer special rates for our team + family and friends. And sometimes we even give away free nights!

Sende bitte deine Bewerbungsunterlagen an 
karriere@ipartment.de
Stellenausschreibung als PDF laden